Khajuraho with Nepal Tour
---
Duration :
13 Nights / 14 Days
Destinations Covered :
Delhi - Jaipur - Agra - Khajuraho - Varanasi - Kathmandu - Delhi
---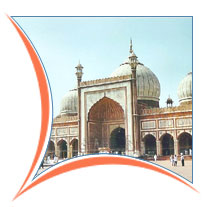 Day 01 - Arrive Delhi
Arrive Delhi by international flight. Meeting and assistance on arrival and transfer to the hotel. Check-in time is 12 Noon. Overnight at the hotel
Day 02 - Delhi - Sightseeing
Full day sightseeing tour of New Delhi and Old Delhi New Delhi visit includes Qutab Minar, one of the earliest remains of Imperial Delhi (13th century AD ) Humayun's Tomb-the fine monument believed to be forerunner of Taj Mehal, India Gata, the 42 metre high arch was raised as a memorial to soldiers, drives past Parliament House, President's House, Secretariat Building, Laxminarayan Temple and The Connaught Place.
Day 03 - Delhi - Jaipur
After Breakfast drive to Jaipur. Upon arrival, check in at Hotel. Evening free for leisure activities.Overnight at Hotel.
Day 04 - Jaipur
Morning excursion to Amber Fort, set in a picturesque location. Amer is a fascinating blend of Hindu and Muslim architecture. Built in the 16th century by Raja Mansingh in red sandstone and white marble, the palace complex has some very interesting apartments. Jai Mandir, Sheesh Mahal, Sukh Niwas, Ganesh Pol and Temple of Kali are some of the prominent areas of interest. Elephants are provided to ascend the fort to visit the complex.
Day 05 - Jaipur - Agra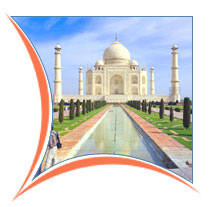 Morning drive to Agra visiting enroute Fatehpur Sikri. Fatehpur Sikri, the birth story of this beautiful city is interesting. There, in a grotto in Sikri, lived a Muslim Saint , Sheikh Salim Chishti by name.
Day 06 - Agra
Morning sightseeing tour of Agra. Agra, the home of the immortal Taj Mahal, the inimitable poem in white marble is the first expression of love of an Emperor Shahjehan for his queen Mumtaz Mahal. This great monument was completed in 1653 AD.
Day 07 - Agra - Khajuraho flight
Transfer to the airport for flight to Khajuraho On arrival, transfer to the hotel. Rest of the day free.
Day 08 - Khajuraho
Full day sightseeing tour of Khajuraho. Khajuraho, once the great capital of Chandela, now a quiet town, Khajuraho temples here were built during the Chandela period from 950 to 1050 AD. Almost intriguing as the sheet beauty and the size of the temples is the question of why and how they were built here as Khajuraho is isolated, 1000 years ago as it is even today. The temples are superb examples of Indo-Aryan architecture and depict images of gods and goddesses, warriors and musicians, real and mythological animals and in great detail - women and sex.
Day 09 - Khajuraho - Varanasi Flight
Transfer to the airport for flight to Varanasi On arrival, transfer to the hotel. Afternoon city sightseeing tour. Vara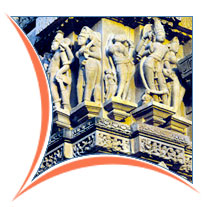 nasi, one of the oldest living cities in the world, believed to be founded 3000 years ago, is one of the 7 holiest cities of Hindus. A city of great wealth and religious importance when the Chinese traveller, Hiuen Tsang, visited it in the 7th century. Visit the Vishwanath Golden Temple, the abode of great God Shiva, Bharat Mata Temple, Durga Temple, Tulsi Manas Mandir and Banaras Hindu University.
Day 10 - Varanasi
Early morning boat cruise on river Ganges. Thousands of pilgrims throng the water's edge, bathing, worshipping, meditating. The boat trip will cover various ghats including the cremation sites. Because every pious Hindu believes that to die in Kashi (Varanasi)and to be cremated on the banks of the Ganges is to attain release from the cycle of birth and death. Afternoon visit Sarnath Sarnath, 7 km from the city where Buddha preached his first sermon more than 2500 years ago.

Day 11 - Varanasi - Kathmandu flight
Transfer to the airport for flight to Kathmandu. Assistance on arrival and transfer to the hotel. Rest of the day free.
Day 12 - Kathmandu
Morning city sightseeing tour to visit Machhendra Nath Temple, a two tiered bronze roof pagoda, Hanuman Dhoka - the historic seat of Royalty, Durbar Square which houses Teleju temple built in 1549 AD, figure of Kal Bhairav - God of Destruction, statue of King Pratap Malla, Temple House of Kumari - the residence of living Goddess.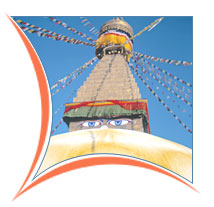 Day 13 - Kathmandu
Morning visit Bhadgaon (Bhaktapur) means the city of devotees, situated at an altitude of 4600 ft., 13 kms east of Kathmandu. Durbar Square - the main Square of the city contains the Lion Gate with the lovely stone figures of Hanuman. Boudhnath - the colossal Stupa, one of the biggest in the world, has the all seeing eyes of the Buddha. The shrine is ringed by houses of Goddess Mani Jogni. It is built on an octagonal base inset with prayer wheels and is situated 8 kms east of Kathmandu . Pashupatinath Temple - situated 5 kms east of Kathmandu on the bank of sacred Bagmati river, the temple of Lord Shiva with two tiered golden roof and silver doors is famous for its super architecture. It is a centre of annual pilgrimage on the day of Maha Shivaratri.
Day 14 - Kathmandu - Delhi flight
Transfer to the airport for flight to Delhi Assistance on arrival and connect flight for onward destination.