Palace on Wheels Train Tour
---
Duration :
7 Nights / 8 Days
Destinations Covered :
Delhi - Jaipur - Jodhpur - Jaisalmer - Jodhpur - Sawai Madhopur -Cittourgarh - Udaipur - Chittourgarh- Bharatpur - Agra - Delhi
---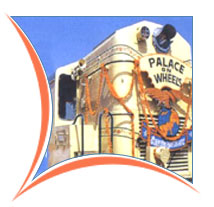 Day 1 : - Wed. / Dep. Delhi at 1745 hrs
Arrive at Delhi Cantt Railway Station at 1600 hrs. Welcome and boarding. Dinner and overnight on Board.
Day 2 : - Thu. /Arr. Jaipur at 0001 hours/Dep. At 1730 hrs
Breakfast on Board. Arrival Jaipur. The first stop of the Palace on Wheels is Jaipur, one of the most well planned cities of the world of its time. This capital city of Rajasthan, popularly known as the Pink City was founded by Maharaja Sawai Jai Singh II, in 1727 A.D. To explore the city, an air-conditioned coach takes you to Hawa Mahal /the Palace of Winds , which is a remarkable five storied building along the main street of the old city in pink splendour with semi-octagonal and delicately honey combed sandstone windows. This is followed by a visit to Amber Fort , eight kms away, where rides on caparisoned elephants add to the ambience. Shop for Jaipur's famous jewellery, handicrafts, carpets, blue pottery and textiles. After lunch at a Palace Hotel, you are off to the City Palace , home of the erstwhile royal family. Right across the road from the palace is the Jantar Mantar, the largest observatory built by Sawai Jai Singh II. After dinner and a cultural program at Palace Hotel, the coach takes you back to the Palace on Wheels. Departure for Jaisalmer is at 1730 hrs.
Day 3 : - Fri. /Arr. Jaisalmer 0615 hrs/Dep. Jaisalmer at 2300 hrs
Arrive Jaisalmer at 0615 hours. Breakfast on Board. Jaisalmer lies in the heart of the Thar desert, founded by Rawal Jaisal in 1156 A.D. Here the yellow sandstone Jaisalmer Fort , is an imposing sight, towering magnificently over the city. Disover the painstakingly latticed Haveli or mansions with their grand facades. The Nathmalji-ki-haveli, Patwon-ki-haveli and Salim Singh-ki-haveli are fine examples of the stone carver's skill. Shop for fine pattu shawls, mirror work & embroidered articles, wooden boxes, trinkets, silver jewellery and curios. After lunch on board, go for an exciting camel ride on the sand dunes of Sam, before sipping a refreshing cup of tea. Enjoy the dinner and the cultural program at Sam Sand dunes / Hotel Moomal and depart for Jodhpur at 23.30 hrs.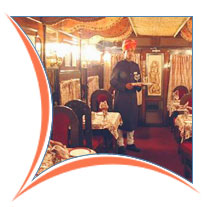 Day 4 : - Sat. / Arr. Jodhpur at 0800 hrs/Dep. Jodhpur at 1530 hrs
Next morning the Palace-on-Wheels is in Jodhpur at 0800 hrs - a city ringed by a high stone wall with seven gates and several bastions. This second largest city of Rajasthan, founded by Rao Jodha in 1459 A.D. is known for its rock-solid Mehrangarh Fort. The grand palaces within - Moti Mahal, Sheesh Mahal, Phool Mahal, Sileh Khana and Daulat Khana are impressive examples of architectural excellence. Near the fort complex lies Jaswant Thada and a group of royal cenotaphs made of white marble. After lunch at Umaid Bhawan Palace, return to the Palace on Wheels. While in Jodhpur shop for exquisite handicrafted articles including the famous breeches, embroidered shoes, metal curios, silverware, paintings and tie and dye fabrics. Departure for Sawai Madhopur at 1530 hrs.
Day 5 :- Sun. / Arr. Sawai Madhopur 0400 hrs/Dep. 1100 hrs
One can almost sense a life of the wilderness, as the Palace on Wheels arrives in Sawai Madhopur at 0400 hrs - a city named after its founder, Maharaja Sawai Madho Singh I. After breakfast, a visit is arranged to the Ranthambore National Park, where in are located the ruins of a 10th century fort. This wildlife sanctuary is considered the country's best for observing and photographing the activities of the tiger. The park, covering an area of 392 sq kms is home to more than 300 species of birds. The tiger, hyena, ratel, jackal and fox are among those constituting the carnivorous population here. Sawai Madhopur is known for its exclusive toys, ethnic ornaments and costumes. Upon return to the Palace-on-Wheels, you leave for Chittaurgarh at 11.00 hrs. you arrive Chittaurgarh at 15.30 hrs. The day begins with a visit to the Chittaurgarh Fort, lauded in legends of valour and chivalry. History has it that Bappa Rawal, the founder of the Sisodia dynasty, conquered Chittaur was besieged and plundered thrice, and the womenfolk performed "jauhar ", in a sacred fire to protect their honour everytime. Shop for the tie & dye sarees, leather & embroidered shoes, lac work articles and bangles.
Day 6 : - Mon. / Chittaurgarh/Udaipur/Chittaurgarh - Dep. 2000 hrs
Next morning you arrive Udaipur.
It was founded by Maharana Udai Singh of Mewar, after the Sisodia dynasty was driven away by the Mughals in 1559 A.D. Perhaps the two most beautiful sites of Udaipur are the dream like marble palaces-the Jag Niwas (Lake Palace) and the Jagmandir, which appear to rise from the blue waters of Lake Pichola. After lunch at Lake Palace Hotel, visit to the City Palace and Saheliyon Ki Bari. After evening tea, departure for Bharatpur at 2000 hrs.
Day 7 : - Tue. / Arr. Bharatpur 0600 hrs/Dep. Agra 2300 hrs
Early next morning, the Palace arrives in Bharatpur the capital of Maharaja Suraj Mal at 0600 hrs. Pay a visit to the world famous bird sanctuary, Keoladeo Ghana National Park, the nesting place for thousands of egrets, siberian cranes, migratory water Fowl and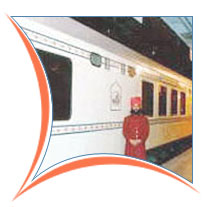 other species of birds. After breakfast, arrive at Fatehpur Sikri -the red sandstone Mughal palacial complex. Within the enclosure is a mosque built by the Mughal Emperor Akbar and dedicated to Sheikh Salim Chishti, a muslim Sufi saint who blessed him with a son. After lunch move on from the Red Fort and arrive at the Taj Mahal , one of the seven wonders of the world. A pristine monument of undying love, it was built by Emperor Shah Jahan in memory of his beloved queen Mumataz Mahal. Agra is known for its splendid marble inlay work like the "pietra dura" work on the Taj, leather goods and jewellery. After dinner on board departure for Delhi at 0800 hrs. Sightseeing tour of Agra. Dinner on Board. Departure Agra at 2300 hrs for Delhi.
Day 8 : - Wed. / Arr. Delhi at 0600 hrs
Breakfast on Board, Tour Ends.