Orissa Tribal Tour
---
Duration :
12 Nights / 13 Days
Destinations Covered :
Bhubaneshwar - Ratna Giri - Baliguda - Belghar - Rayagada - Jeypore - Ankadeli - Lamptaput - Laxmipur - Chilka - Puru
---
Day1 : Bhubaneshwar
Transfer to the airport for flight to Bhubaneswar. Reach and transfer to hotel. Proceed for half-day tour of the city. Overnight at Bhubaneswar.
Day 2 :Bhubaneshwar / Ratna Giri / Bhubaneshwar
Full day excursion to Ratnagiri after breakfast.
Overnight at Bhubaneswar.
Day 3: Baliguda
Today after breakfast you will make a visit the different Villages & Desai Kondh.
Overnight at Baliguda.
Day 4: Rayagada / Jeypore
Morning proceed to Chatikona (40 km) to witness the Interesting & colourful weekly market of the Dongaria kondh tribes.
This day this interesting ornamental Tribes come down from their mountain will known as Niayamgiri hill range. This is an unique opportunity to witness them before they come and mix with other community in the market, so we will take you 2/3 km from the market near the Niyamgiri hill, so to watch & enjoy these community coming down with different kinds of fruits, animal etc.
Free time in the market.
Overnight at Jeypore.
Day 5/7: Jeypore / Ankadeli / Lamptaput / Jeypore
After early breakfast proceed to Ankadelli - 70 km to witness the most primitive, interesting & unique tribal weekly market of the Bonda tribes. The place is the border of the neighboring state of Andhra Pradesh, divided by river Machkund, with interest waterfall,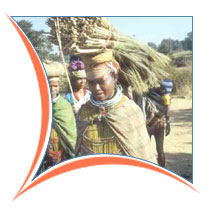 mountain & forest.
You will be taken inside for about 2/3km walk to witness the Bonda man & woman coming down from the forest side. It is being considered that at present Bondas are the most primitive tribe of India or otherwise known as the Nakate tribes of the mountain. Bonda women with their silver & brass rings around the neck, hundred of necklaces on the body, shaved hair a small cloth wrapped down to cover half of the private areas are out of any history book. In the other side the Bonda men with their bow & arrow with country made liquor. A fascinating one to watch. Photography in the market is restricted, so you can take photo on this time.
Free time in the market.Afternoon proceed to Lamtaput area to explore another primitive tribal community the Gdabas - you can watch the most colorful tribal dance call DEMSA.
Late afternoon drive back to Jeypour.
Overnight at Jeypore.
Day 8/9: Jeypore / Laxmipur / Rayagada
Breakfast. Visit Dhuruba Tribe, Laxmipur, of the Bondas Region. Also Visit Jagannath Temple & Tribal Museum at Koraput (The Jagannath Temple is a new temple built on 1972. Here Non Hindus are allowed inside the Temples and all activities are similar to Jagnnath Temple of Puri). Lunch on the way.
Overnight at Rayagada.
Day 10/11: Chilka / Puri
Drive to Puri after breakfast.
Reach Puri and relax in the beach.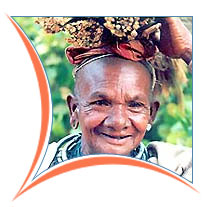 Overnight at Puri.
Day 12: Puri
Proceed for a tour of Puri after breakfast covering Jagnnath Temple and Konnark (The Sun Temple).
Overnight at Puri.
Day 13: Puri / Bhubaneshwar
Breakfast at hotel.
Transfer to Bhubaneshwar Airport to board flight to Delhi or onward Destination.